PARTICLE FLOW
TOOLS
Particle Flow Tools is a set of operators and other software tools created by the original author of Particle Flow for extending its capabilities.
more...
Gallery
The Gallery page is under perpetual construction. If you have any materials (still images, animations etc.) you would like to submit for this page please contact us at gallery@orbaz.com. More Particle Flow and PFTools related videos can be found at Vimeo Particle Flow Toolboxes Group.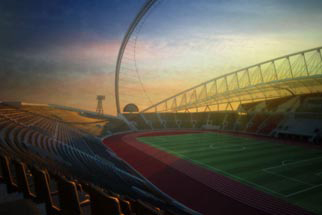 Particle Painting - Filling a stadium with over 44,000 chairs
Created with Discreet 3ds Max 7 with Particle Flow Tools: Box#1 by Anselm von Seherr - Thoß (aka. PsychoSilence) for an "ASIA GAMES 2006" spot. © 2006 BlackMountain VFX Stuttgart / Germany (www.blackmountain.de)
"It took me one work day only for R&D plus setup to plant over 44,000 chairs into a stadium. That displays how versatile PFlow really is!
One single PFlow system controls all 44,000 chairs consisting of 6 different types of chairs and shaders. Notice that the PFlow even builds the flag of Katar in the upper right corner of the image."