PARTICLE FLOW
TOOLS
Particle Flow Tools is a set of operators and other software tools created by the original author of Particle Flow for extending its capabilities.
more...
Gallery
The Gallery page is under perpetual construction. If you have any materials (still images, animations etc.) you would like to submit for this page please contact us at gallery@orbaz.com. More Particle Flow and PFTools related videos can be found at Vimeo Particle Flow Toolboxes Group.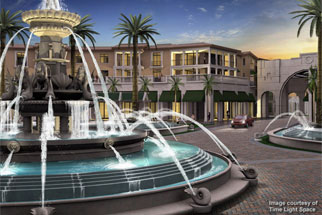 Renaissance Fountains
Created with Autodesk 3ds Max 8 with Particle Flow Tools: Box#3 by Mark Smith / Time Light Space © 2006
"...The fountains are the focal point of an upscale mixed use development in Naples, Florida, and required 30 particle flows centered in a 3ds max scene of fourteen 2- and 3-story buildings. Using the Cache Disk operator ..., I was able to render an otherwise unmanageable group of particle flows and finish the animation." More info and animation...
Full-size still image: RenaissanceFountains.jpg (170 KB) 800x600