PARTICLE FLOW
TOOLS
Particle Flow Tools is a set of operators and other software tools created by the original author of Particle Flow for extending its capabilities.
more...
Gallery
The Gallery page is under perpetual construction. If you have any materials (still images, animations etc.) you would like to submit for this page please contact us at gallery@orbaz.com. More Particle Flow and PFTools related videos can be found at Vimeo Particle Flow Toolboxes Group.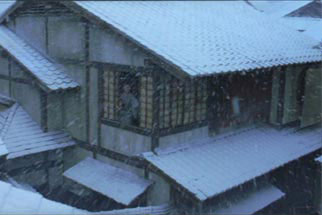 CG in Memoirs of Geisha
Created with Discreet 3ds Max 6 with Particle Flow Tools: Box#1 and Freebies by Adam Watkins / CafeFX © 2005
"...In the beginning of of the sequence cg cherry blossoms were used to augment real cherry blossoms in the plate ... Then the sequence transitions to winter ... with a very wide shot of 1930's Kyoto — integrating the California set with a huge multi-layered digital matte painting ... and layers upon layers upon layers of cg particle flow snow!..." More info...
Full-size still image: GeishaSpringToWinter04.jpg (80 KB) 900x395