PARTICLE FLOW
TOOLS
Particle Flow Tools is a set of operators and other software tools created by the original author of Particle Flow for extending its capabilities.
more...
Gallery
The Gallery page is under perpetual construction. If you have any materials (still images, animations etc.) you would like to submit for this page please contact us at gallery@orbaz.com. More Particle Flow and PFTools related videos can be found at Vimeo Particle Flow Toolboxes Group.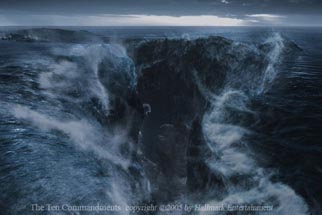 CG in The Ten Commandments
Created with Discreet 3ds Max 7 with Particle Flow Tools: Box#3 by Laszlo Sebo / Hallmark Entertainment © 2005
"...The Hallmark miniseries The Ten Commandments followed the story of Moses from his childhood all the way to finding the Promised Land. Over the course of approximately 4 hours, the episodes had about 230 CG effects shots, of which the biggest challenge for our little team of CG FX artists was recreating the Red Sea opening up. The sequence consisted of over 30 shots of ocean surfaces, both close-ups and distant background shots..." More info and animations...