PARTICLE FLOW
TOOLS
Particle Flow Tools is a set of operators and other software tools created by the original author of Particle Flow for extending its capabilities.
more...
Gallery
The Gallery page is under perpetual construction. If you have any materials (still images, animations etc.) you would like to submit for this page please contact us at gallery@orbaz.com. More Particle Flow and PFTools related videos can be found at Vimeo Particle Flow Toolboxes Group.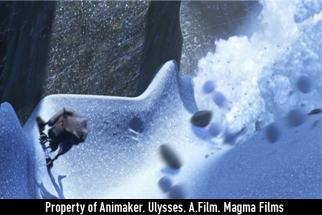 Avalanche
The Avalanche was created using all 3 Particle Flow Toolboxes and Afterburn 3.2a.
"Intentionally no rocks or gravel were planned by the director but the first test results and speed of the collision particle setups impressed the team. PFTools:Box#2 in its very first alpha built did a fabulous job on the RBD simulations for all the rocks and gravel that was then baked out with a MaxScript. A Low Poly Version of the environment and characters were exported out of Maya and used as collision objects on a single notebook machine (Win XP Pro-32, 2x2GHz, 2GB Ram, Max9SP2)."
Production Team Germany
Studio: Pictorion Magma Animation GmbH
Special Effects & Simulation Artists: Tobias Becker, Friedolin Dreesen, Garloff Langenbeck, Cornelius Porzig, Garry Runke, Anselm von Seherr-Thoß
Technical Director: Friedolin Dreesen
Additional SFX Studio: Visual Distractions LTD.
Effects Supervisor: Julian Hermannsen
Effects Technical Director: Pierre Grage, Marcus Wagenführ
Effects Artists: Marc Langbein, Malte Lauinger
Effetcs Pipeline Technical Director: Volker Eichhorn

Preview: Avalanche_Preview.avi (6.6MB) 720x389