PARTICLE FLOW
TOOLS
Particle Flow Tools is a set of operators and other software tools created by the original author of Particle Flow for extending its capabilities.
more...
Gallery
The Gallery page is under perpetual construction. If you have any materials (still images, animations etc.) you would like to submit for this page please contact us at gallery@orbaz.com. More Particle Flow and PFTools related videos can be found at Vimeo Particle Flow Toolboxes Group.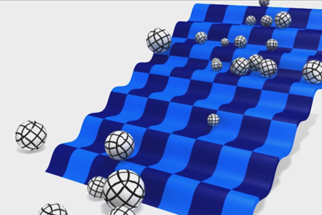 Animated Surface Deflectors
Created with Autodesk 3ds max 9 & 2009 with Particle Flow Tools: Box#2 beta by Oleg Bayborodin / Orbaz Technologies, Inc. © 2008 and John Rand / RandomFX © 2009
"As compared with the standard deflectors in 3ds max, Box#2 can use animated-surface deflectors for particle collisions."
AnimatedSurfaceDeflector.avi (39.1MB) 640x480
AnimatedSurfaceDeflector2.avi (41.9MB) 640x480
ConveyerBelt.avi (26.2MB) 640x480